It's about time that Ontario revamped its Health & Phys. Ed. Curriculum. The last one, created in 1998, is outdated and fails to cover new technologies (e.g., texting, Internet safety), as well as mental health issues and healthy living.
Sexually transmitted diseases are on the rise, while teen pregnancies are down in 2014.
Even some elementary school students have sent sexually explicit pictures of themselves to someone online, while 11 per cent of Grade 10 students and about 14 per cent of those in Grade 11 say they have sent a sext, according to a 2015 study, *Young Canadians in a Wired World.
There is much that the previous iteration of the document included: identifying body parts for the wee ones, and understanding bodily functions, changes in society (such as same-sex marriage, transgender, and gender differences,) and the changing family.
What the education minister explained, is that our grandchildren are experiencing puberty at earlier ages than before. Kids need to know what is happening to their bodies. (This education begins in grade 4.)
Unfortunately, many parents do not talk about 'sex', nor do they educate children about body parts, how to say no, how to avoid predators, how to take control of their bodies. It is up to parents to interpret the world for their children, and convey information on values, culture, religion and identity. They can build on this, using the handouts from the ministry. Too many kids are sucked into harm, by those who prey on their ignorance. Unless a kid never watches TV, or goes on a computer, they are vulnerable.
The press conference was a hoot. The media seemed to be trying to create controversy where none should exist. The minister patiently explained that they'd been speaking to stakeholders since 2007, which includes the publicly-funded Catholic Boards. Not that I think Catholics should have their own system, not on taxpayer dollars, but that is the situation.
~~~~~~~~~~~~~~~~~~
These are the specific topics, by grade and strand.
Resource Documents Specific to this Subject for Parents
*Young Canadians in a Wired World, Phase III: Life Online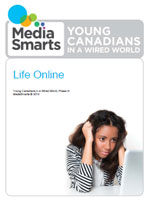 This report is drawn from a national survey of Canadian youth conducted by MediaSmarts in 2013. The classroom-based survey of 5,436 students in grades 4 through 11, in every province and territory, examined the role of networked technologies in young people's lives.
Life Online
(the first in a series of reports from the survey) focuses on what youth are doing online, what sites they're going to, their attitudes towards online safety, household rules on Internet use and unplugging from digital technologies.
Gr 9-12 pdf
http://www.
edu.gov.on.ca/eng/curriculum
/secondary/health9to12.pdf
…
Gr 1-8
http://www.
edu.gov.on.ca/eng/curriculum
/elementary/health1to8.pdf
…
.pdf